INDUSTRIAL SUBCONTRACTING
MATERIAL AND HUMAN MEANS
Sateco is a reliable partner in mecano-welding in France, and has the means to ensure the full manufacture of all your industrial sub-assemblies, including the most intricated. Human means, with a specialized and regularly trained team (all welders are qualified according standards NF 287) but also materials with up to date equipments to guarantee our customers optmimum quality at a competitive price.

Modern and innovating equipments
To answer the customers requests, Sateco invested in modern industrial means :
1 - Production tools / Sateco Industry Department


Solutions for folding :
Bending machine CNC 7 axis
Bending machine CNC 7 axis avec contrôle d'angle
Bending machine CNC 7 axis avec contrôle d'angle

Finition and protection services :
1 Automatic painting line :

- degreasing system by robot
- water soluble paint with single component
- powder painting

Paint cabin
Blasting cabin 6x3.5m with automatic recycling of the shot

Automatic assembling solutions :
Robot DD 674
10 axes
2 manipulators maximum load : 2 000kgs
Welding robot maintening distance from 2.5 to 6m
Radius of gyration : 2.20m
Power : 17 KVA
Robot RT 330
Same features DD 674
Welding robot with turntable
2 manipulators with horizontal axis
Power : 15 KVA
Robot RTI 330-S
Welding equipment : 450 Amp 100%
Welding robot with a rotary device

Punching and nibbling
Punching and nibbling CN machine with bidirection tower and 24 inserted tools
Punching bench
Universal punching machine PEDDIMAX

Machining equipments :
Milling machines
Boring machine W100
CNC lathe

Material for drilling / tapping :
2 radial drills
ERLO Drill

Handling materials :
9 overhead cranes (from 2.5 to 6.3 tonnes)
Gallows : 500Kgs
5 special bridges
Forklifts (up to 5 tonnes)
Potain crane 10 tonnes

Cutting tools :
Automatic cutting CNC
2 automatic bandsaw CNC


Bending tools :
2 bending horizontal presses (tube bending by pushing and winding)

Equipments for traditional assembling :
Multipass welding
Remote controlled welding stations 450A
80 semi-automatic welding stations mig-mag
TIG welding stations, 2 ARO weldings guns,
2 - Mastered controlled systems and certified quality

ISO 9001 certification for more than 20 years
Certifications of all the welders (standard EN 287-1) and continuous training according the customers'requests.
COFREN certification (welding certification)
Many control equipments at each steps of the manufacturing.
Traceability of the raw material and follow up of the products with the integrated RFID tags.

3 - IT Resources
The Studies, Methods and Production Services of Sateco Industrial Dtp are equipped with CAO (Help on design software, GPAO (Help on production software) and FAO (Help on manufacturing software), to optimize the prototype studies, the creation of templates and the design of standard or specific products.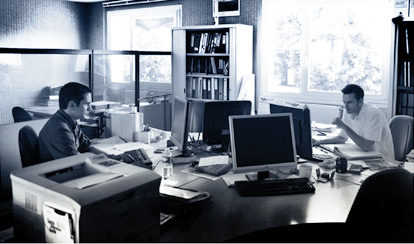 Sateco tools necessary to develop the mecano-welding Dpt :
CAO-DAO 2D/3D softwares (SOLIDWORKS)
Materials resistance calculation software : CETIM-Castor, COSMOS/WORK
PHL welding robot programming software
Laser cutting and nesting software
Folding software
CAPM type MRP
Time management system with code bar
Planning and scheduling software
Risk management software
supprimer