OUR "SAVOIR-FAIRE" IN MECANO-WELDING
Sateco creates tailored industrial solutions, and carries out your mecano-welded products projects and their intricated pieces, but also offers more services to work with you to bring you global solution.

Added services of Sateco industrial Dpt

Welds control by chemical process
This control method is used in many fields to identify the discontinuity on the sheet, after the visual inspection. A chemical coat is laid on the concerned piece to identify the possible defect, then the conformity document is delivered ensuring the reliability of the product controlled.

Thermal treatment operations
It is the treatment used during the manufacture of metals in order to improve their mecanical features (hardness, ductility, elasticity...) after several extreme heating and cooling steps
supprimer

Machining after assembling
Machining is a material removal process in order to give a piece of raw material its final and requested shape with an accurate tool machine.

Surface treatment
Should it be to treat wear or for esthetic aspect, surface treatments such as galvanizing (anti-corrosion) or painting, can modify the aspect or the function of the metal surface to adapt it to given requests.

Hydraulic and electrical assembling in workshop / Assembling on site
You can delegate the assembling on Sateco site to save time, refocus your energy on your business,
Sateco ensures the reliability of the service.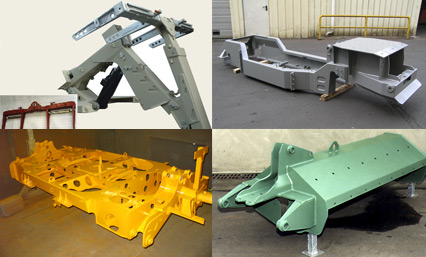 You wish to know more about our services in
mecano-welding?

You can also contact us to meet us to discuss your industrial subcontracting and specific projects.