YOUR TAILORED INDUSTRIAL SOLUTIONS WITH SATECO
As a specialist in mecano welding, Sateco carries out the manufacture of all your products and their intricated components from your drawings including your different constraints and requests. You can entrust Sateco with the sub-contracting of tailored new conceptions but also the optimization of existing products to potentially improve them.

Achieve new tailored conceptions
You need a new product with a special manufacturing?
You wish to outsource its production, and optimize your budget?
Sateco guarantees the quality and reliability of your pieces, with a sophisticated manufacturing process for years.
For more flexibility, you may, either, supply SATECO with the raw material, or entrust us with the total control of your project.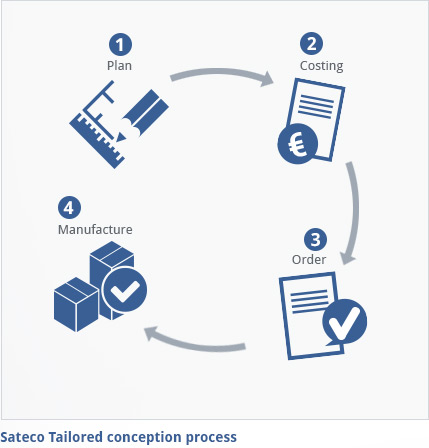 PROJECT PRESENTATION AND DRAWINGS STUDY

Your privileged contact in Sateco will be here to listen to you and your requests, your aims, exchange on your manufacturing
drawings.
In case you have no internal resources to do the designs, you may also delegate this step to our Design Office.

ESTIMATION / QUOTATION

Sateco will quote the most precisely and rightfully the demand and will also propose
an alternative solution optimized by its teams.

ORDER

After discussions and final validation of the last drawing,
the order can be validated.

MANUFACTURING AND DELIVERING

From the order, then starts the manufacture of the product in conformity with the drawings previously defined in respect with the deadlines announced.
Improving the existing products
You wish to improve an existing
product of your range? You need an external advice to reconsider your manufacturing process and optimize your ratio production/cost?
You can entrust Sateco with your project to reconsider a manufacturing process and find an optimized solution,
with the semi-automatic assembling of the pieces and the modern industrial means of our production workshop.